1.Why is stone preferred?
Because Stone has many preeminent features:
Because the stone has many outstanding features.
Express the class and personality of the user.
Beautiful, luxurious.
Natural, colorful and stone vein is beautiful.
User-friendly, non-toxic.
The stone has "Cold properties" to create a pleasant, cool feeling.
Superior in durability.
Easy for maintenance.
Diverse models, types, colors.
And many other great features, etc.
a.Natural Stone
There are various types of Natural Stone with different names but provided into 2 main groups:
Granite
Made of medium and small crystal grains.
High hardness.
Easily liquid-permeable, aging, discolored, etc.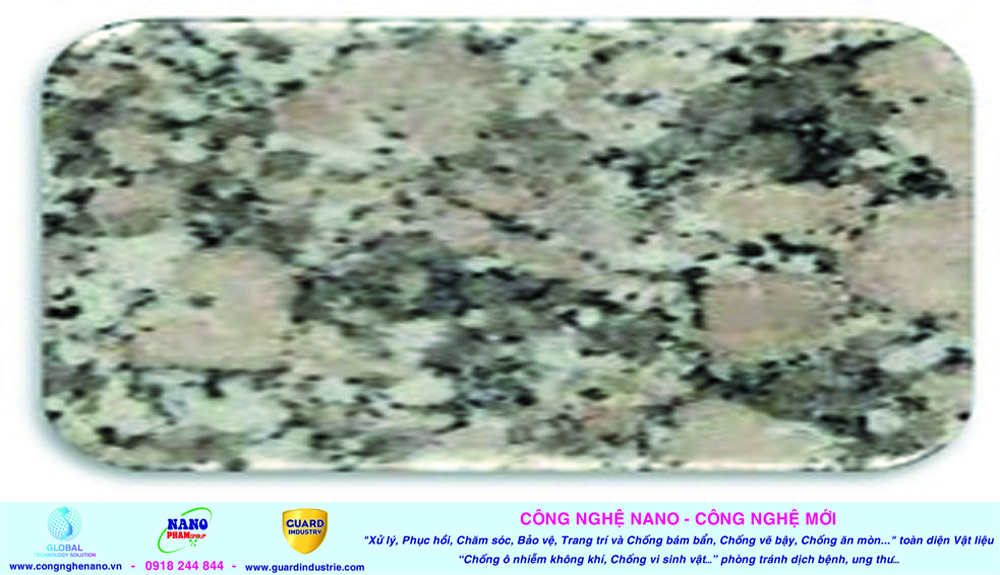 b.Marble
Made of large crystal grains.
Vividly natural veins, variety of colors.
Not high hardness.
Easily liquid-permeable, aging, discolored, etc.
-> The nature of Natural Stone: Natural Stones have many metal atoms which are easily oxidized when being exposed to fluids.
Artificial Stone
c.
What is artificial stone?
Artificial stone is a product of composite plastic materials combined with natural macadam. Two types of macadam commonly used are Granite and Marble. Artificial stone is used to replace the natural stone in many cases. The main ingredients are in artificial stone: Macadam, Stained Glass, Seashells, Metal or Glass …
d.
Preeminent features of artificial stone:
Has a higher hardness than natural stone.
Various colors.
Meet the demand for use.
Good price.
Easy to repair and replace…
2.Current Waterproofing Methods
Stone does not use "Protection" method Natural stone and artificial stone after using time often have phenomenon:
Conventional Waterproofing
Stone is often waterproofed by Silicone Technology which creates a membrane separating the stone from the environment -> For example, no matter how good a branded handbag is, if covered by a coating, it will completely lose its value.
a.Limitations of this method:
The Silicone membrane creates an outer coating layer, obscuring the original veins and color of Stone, reducing the value of the Stone.

Under the impact of UV rays, dirt, environment, ... Stone surface is easily scratched, blistering, yellowing, irregular color.

During transport, installation, use, waterproofing layer is impacted and under pressure of weight, so it peels off; water, dirt, ... will penetrate into the Stone but not escape, causing the change of the original color of the Stone, even deforming the Stone surface.

When there is a problem, it's difficult to treat and maintain.
b.Dye
Because the colors of Stone are uneven, the production units in the market today are often stained to deceive customers. Therefore, it is difficult to distinguish the colors of natural or stained stone. After a period of time, there were problems such as discoloration, patching, peeling...
How to check whether the natural stone is stained or not?
-> Use of acetone on the stone surface, if the stone is discolored, the stone has been stained
3. Conclusion
Here we see all 3 methods: no protection, normal waterproofing and staining they are not effective
So why spend money on conventional waterproofing methods when it is ineffective???
Not high-class, less luxurious.

Loss of Stone veins, glossiness, and change of natural color.

Not safe for users because stained rocks often use chemical technology that is not eco - friendly.

Absorbed water, stained, discolored, yellowish.

Reduced abrasion resistance.
The user knows most clearly about the value and class of Natural Stone. Therefore, more than anyone, they always want to find protective solutions from the beginning. -> "Be smart investors by protecting your products from the beginning".